IDS WEEKEND, (April 24, 2003):
TURN PALE TURNS DARK:
Local band plans to take sinister sound on the road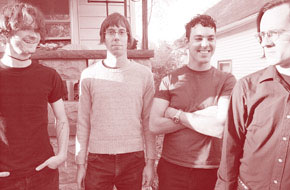 Libby Bulloff, a fan, describes a typical Turn Pale performance as follows:
The stage is dark when Turn Pale begins its performance. Red lights ominously illuminate the stage and smoke crawls around the room. Band members stoically play their instruments and the lead singer is in the crowd groping audience members between lyrics.
Turn Pale's live shows have developed a strong reputation since its emergence on the Bloomington scene in July 2000. Lead singer Michael Anderson, along with drummer Martin Sprowles, guitarist Nick Quaglaria and bassist Chris Lombardi, hope this reputation will propel them to the next level as they prepare for a series of tours over the next year.
"The shows are very energetic," Anderson says. "There's a lot of dancing and crowd interaction. I go into the audience and get in people's faces, kiss them and grab them and climb up on things."
Turn Pale's next show will be Wednesday, April 30 at Vertigo Live Music Venue, when it will perform a benefit for "Midwest Pages to Prisoners," put on by Boxcar Books. Anderson says the show will be an '80s-themed prom for which the band will be performing special songs.
Bulloff, a freshman, says she has quickly become one of Turn Pale's biggest fans, and also praises the energy of the live show.
"Michael likes to jump into the audience and try and scare them during the show," Bulloff says. "He'll come into the middle of the crowd and get up in your face. He directs the song right at you. It's very intense."
Chris Swanson, owner of local label Secretly Canadian, also says he believes the strength of the band comes in its live performance.
"They are a ferocious live band," Swanson says. "They are timeless and not afraid to be in your face in an aggressive, subversive way."
Swanson likens Anderson's live vocals to a fusion of Bauhaus' Peter Murphy and Nine Inch Nails' Trent Reznor, performing with high energy until he can sing no more.
Turn Pale's latest single "Chance," which came out on Anderson's Bluesanct label, and distributed by Secretly Canadian, sold out its first pressing locally and sold a large amount of copies in Europe, Swanson says.
Turn Pale's sound is described by Anderson as "death disco," influenced by The Birthday Party and Public Image Limited. Swanson says the band brings together an old sound and blends it with a new, contemporary style that is unique.
"You'll hear a lot of '80s post-punk," Swanson says. "But at the same time what they do is very new and radical in their own right."
Anderson suggests the song "Sycophant" to first-time listeners of the band. He says that its one of the most "pop-sounding" songs they have.
Despite being together for nearly three years, Turn Pale has not yet released an LP. That will change in June when the band plans to release its debut album on What Else? Records, an independent label out of Columbus, Ind.
"We waited a while because the first year you are together, each member sounds like their influences," Anderson says. "We toured a lot and waited until we had songs we wanted."
Upon first impression, Turn Pale may seem like a "goth-rock" band, but Bulloff hesitates to label the band "goth."
"People might not give them a chance at first," she says. "They think, 'Goth rock. Oooh scary.' But it has been a very inviting and opening experience following them."
Bulloff describes the music as a mix between post punk, goth rock and dark dance floor hits.
"It's a very distinct sound and a very approachable sound and you can dance to it," she says.
Bulloff has been to five shows since she discovered the band in September and would have been to more had she been of age for the 21-and-over shows, but even that didn't stop her. At a recent show, she found a loophole around the age restriction by selling merchandise for Turn Pale so she could catch the performance.
"We try and play to an even amount (of all-ages shows and 21-and-over shows)," Anderson says. "We've played at Vibes (WIUS's weekly Friday night show) three times, basements and just about every local bar. Lately we've played at Vertigo a lot."
Turn Pale is currently resting up to record its album and hit the road in May. The band will tour from here to Minneapolis and back, then in June and July go out to the east coast, where Anderson is originally from, and then to Europe with Black Eyed Snakes in September to play for its budding fan base overseas.
Swanson sees an unlimited amount of potential in the band in the coming year as its new album will supplement its live performances.
"The band is going to do really well once the full record comes out," Swanson says. "They tour hard and are bound to find their audience."
As for the future, Anderson sees no limit to how big it can get, as long as the group can stay true to itself.
"It's a lie for a band to say they don't want to succeed, "he says. "I'd like to be as big as we can be, but everything has to be on our own terms."
- article by Brandon Tucker / photo by Bartram Nason