THE PIN-UP, (February 2002):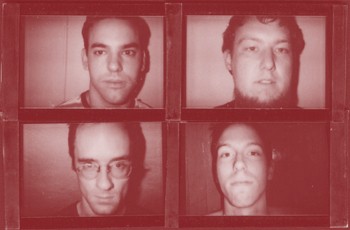 TURN PALE, TURN ON
Michael Anderson and Pete Schreiner of Bloomington's Turn Pale were interviewed last week for this issue:
THE PIN-UP: What was the first record that changed your life? Do you still listen to it?
PS: 'Dizzy Atmosphere' by Dizzy Gillespie. I still have it, but my record player is broken.
MA: One of the first records that caught my attention as being better than what I was hearing on the radio was 'Side Kicks' by The Thompson Twins, in 1984. I got it on cassette, which was a UK import with a whole bonus side of remixes. Soon after both 'Head on the Door' by the Cure and 'Meat is Murder' by the Smiths came out and that pretty much defined what I wanted out of life. I still listen to all three frequently, yes. Though I've lost the tape version with the remixes.
PU: How did you end up in Bloomington? Why?
PS: Drove here from Valparaiso to attend IU.
MA: I moved to Bloomington via Chicago. I grew up in Boston and moved to Chicago in 1996 to work more seriously on my record label and to be with my girlfriend at hte time who had just graduated from film school. I moved here in May 2000 because I had had enough of the big city and it's constant weight. From the suburbs through the cities towards the country. I love it here.
PU: Is there any significant message you would like to convey with your work?
PS: That we are enjoying what we are doing -- encourage other people to make music.
MA: I want people to realize that it is never too late to look at your life and change it for the better. The world that surrounds us is full of endless possibilities, but only if you want it to.
PU: Is there a single word or phrase that you would use to describe your work?
PS: Nu-Metal.
MA: I have always thought of myself as fueled by the phrase 'ecstasy under duress'.
PU: How do you perceive your audience? What is their role in your music/art?
PS: People who are hopefully into the music we make -- they can radically influence how I feel during a show and therefore how I play.
MA: I try to entertain, as well as seek to inspire others to do what they want to; to express themselves in a way fitting to their life, as I am doing.
PU: Where do you see yourself in five years?
PS: I'm not sure. There are so many factors that it's almost impossible for me to predict.
MA: Sitting in front of the computer answering email. Maybe in Bloomington, maybe in Reykjavik. And trying to love everything I see.
PU: What is on your turntable/cd player/tape deck right now?
PS: Record player - broken; cd player - Saturation by Urge Overkill; tape deck - AC/DC.
MA: The Wolfgang Press - 'Standing up Straight' CD (4AD, 1986)
PU: What is the last movie you saw?
PS: Life as a House
MA: I think it was either Wes Anderson's 'The Royal Tenenbaums' of 'Heroine', a concert film of Nico by Malcolm Whitehead.
Turn Pale is playing at the Limbo Lodge with The Meanagers and Against Me, Febraury 8th.
- article by The Pin-Up / photos by Pete Schreiner